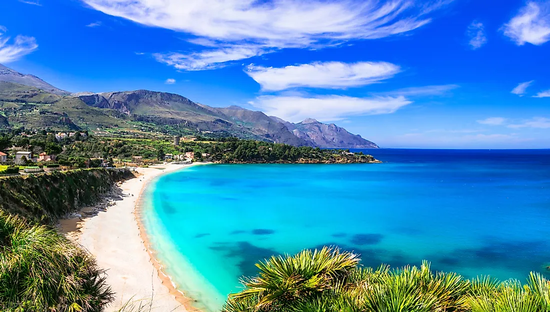 Sicily is the Mediterranean Sea's largest island and one of Italy's 20 regions. It is formally known as Regione Siciliana and is one of the five Italian autonomous regions. The population of the region is 5 million people. Palermo is the capital city.
Sicily is located in the middle Mediterranean Sea, south of the Italian Peninsula, divided by the Messina Strait. Mount Etna, one of Europe's tallest active volcanoes and one of the world's most active volcanoes, stands at 3,357 meters (11,014 feet) high. The climate on the island is characteristic of the Mediterranean.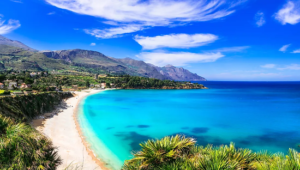 A trip to Sicily is a feast for the eyes, ears, and stomach. The Mediterranean island is a foodie's dream, with rustic cuisine that takes advantage of the island's wealth. Crispy/creamy arancini (fried rice balls stuffed with cheese and sauce) are heavenly mouthfuls.
Some of the world's best sweets, such as chilly granita and decadent cannoli, are the result of Sicily's sweet hunger. Give your stomach a rest and feast your eyes on Catania's Baroque architecture or Agrigento's magnificent holy structures.
There are seven UNESCO World Heritage Sites on Sicily. By the order of inscription:
1-Valle dei Templi (1997) is one of the most outstanding examples of Greater Greece art and architecture, and is one of the main attractions of Sicily as well as a national monument of Italy. The site is located in Agrigento.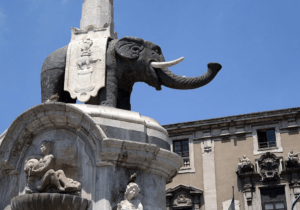 2-Villa Romana del Casale (1997) is a Roman villa built in the first quarter of the 4th century and located about 3 km (2 mi) outside the town of Piazza Armerina. It contains the richest, largest and most complex collection of Roman mosaics in the world.
3-Aeolian Islands (2000) are a volcanic archipelago in the Tyrrhenian Sea, named after the demigod of the winds Aeolus. The Aeolian Islands are a tourist destination in the summer, and attract up to 200,000 visitors annually.
4-Late Baroque Towns of the Val di Noto (2002) "represent the culmination and final flowering of Baroque art in Europe". It includes several towns: Caltagirone, Militello in Val di Catania, Catania, Modica, Noto, Palazzolo Acreide, Ragusa and Scicli.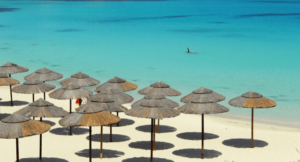 5-Necropolis of Pantalica (2005) is a large Necropolis in Sicily with over 5,000 tombs dating from the 13th to the 7th centuries BC. Syracuse is notable for its rich Greek history, culture, amphitheatres and architecture. They are situated in south-eastern Sicily.
6-Mount Etna (2013) is one of the most active volcanoes in the world and is in an almost constant state of activity and generated myths, legends and naturalistic observation from Greek, Celts and Roman classic and medieval times.
7-Arab-Norman Palermo and the cathedral churches of Cefalù and Monreale; includes a series of nine civil and religious structures dating from the era of the Norman kingdom of Sicily (1130–1194)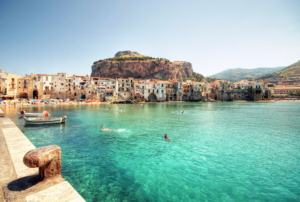 Holiday Deals
All Inclusive holiday Flights included from 195 Euro Book Here

Cheapest Best Hotels in Sicily Check Prices
Book a hotel with a discount and save up to 60% Check Prices
Jetradar searches travel and airline sites to help you find
cheap flights at best prices Check Here
Sicily's Top 3 Things to Do
Alcantara Gorge & Mt Etna to 2900m Discount Ticket Here
​​​​​Taormina & Mount Etna 2900 Discount Ticket Here
Syracusa Heritage Tour Discount Ticket Here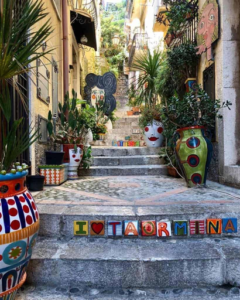 QEEQ – $50 Off Car Rental Coupon Package for New Signups + FREE Offline Map & GPS Click here


OMIO – Train Tickets and Rail Passes in Europe Click here


Insurance for any traveler
International Travel Insurance
Europe Travel / Schengen Visa Insurance Check Prices

HostelWorld – Book cheap hostels across the world Check Prices

Rail Europe – Buy European train tickets, the safe and simple way Check Prices

loveholidays – All-inclusive Holiday Check Prices

BOOK TICKETS TO MUSEUMS, ATTRACTIONS AND FUN ACTIVITIES Click here

WeGoTrip – Self-guided tours with the mobile app Click here