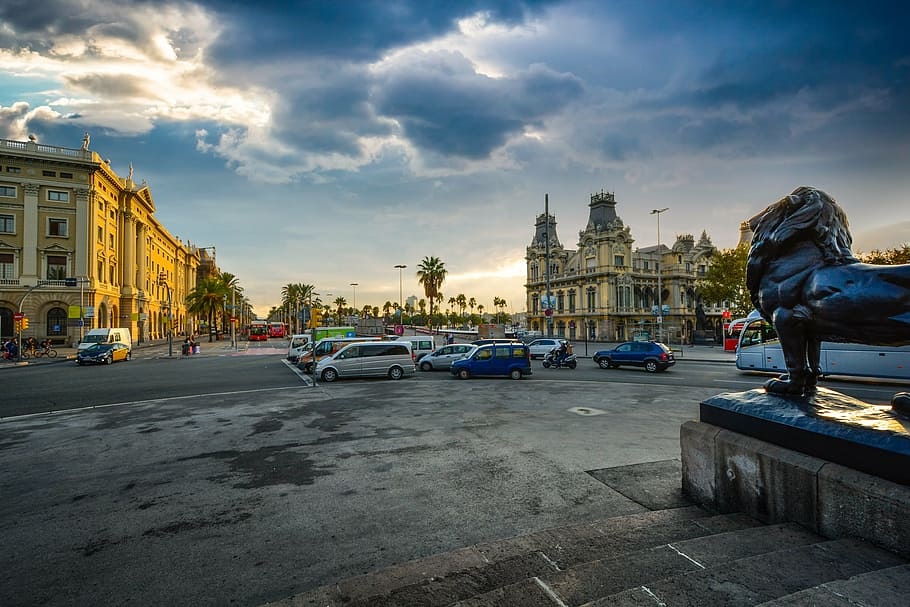 Sure, here's a possible one-day itinerary for a tour of Barcelona:
Morning:
Start your day with a visit to La Sagrada Familia, one of the most famous landmarks in Barcelona. This iconic basilica was designed by the Catalan architect Antoni Gaudi and is still under construction, with an estimated completion date of 2026.
After your visit to La Sagrada Familia, head to Park Güell, another of Gaudi's masterpieces. This park is a UNESCO World Heritage Site and features colorful mosaics, unique architecture, and stunning views of the city.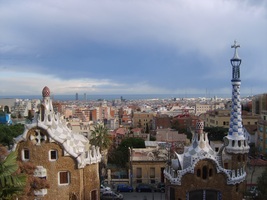 Lunch:
For lunch, head to the Barceloneta neighborhood and try some authentic seafood at one of the local restaurants. Barceloneta is known for its fresh seafood, and you can find plenty of great options along the beachfront.
Afternoon:
After lunch, take a stroll along La Rambla, Barcelona's famous pedestrian street. This bustling street is lined with shops, restaurants, and street performers, and is a great place to people-watch and soak up the atmosphere.
From La Rambla, head to the Gothic Quarter, one of the oldest neighborhoods in Barcelona. This area is full of narrow streets, beautiful architecture, and hidden squares. Be sure to visit the Cathedral of Barcelona and the Plaça del Rei while you're there.
Finish off your day with a visit to the Picasso Museum, which features a large collection of works by the famous artist, including many from his early years.
Evening:
For dinner, head to the El Raval neighborhood and try some tapas at one of the many bars and restaurants in the area. El Raval is known for its lively nightlife and eclectic mix of cultures, and is a great place to experience a different side of Barcelona.
After dinner, take a walk along the beachfront and enjoy the sea breeze before calling it a night.
Of course, this is just one possible itinerary, and there are many other things to see and do in Barcelona. But hopefully, this gives you a good starting point for planning your own one-day tour of the city. Enjoy your trip!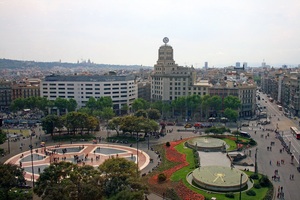 Hotels and Hostels
Booking.com is available in 43 languages and offers more than 28 million reported accommodation listings, including over 6.6 million homes, apartments, and other unique places to stay.
TripAdvisor is the world's largest travel guidance platform. With more than 1 billion reviews and opinions of nearly 8 million businesses, travelers turn to Tripadvisor to find deals on accommodations, and book experiences.
Klook is a booking platform on which travelers can book hotels, cars, tours and activities, tickets to attractions, and shows at great prices.
Hotellook is a service that helps you find and compare prices on hotels around the world, provided by a leading reservation system. Today, Hotellook.com offered to put together information on more than 250,000 hotels in 205 countries.
Hostelworld, the global hostel-focused online booking platform, inspires passionate travelers to see the world, meet new people, and come back with extraordinary stories to tell. Hostelworld has more than 13 million reviews across over 17,000 hostels in more than 179 countries, making the brand the leading online hub for social travel.
Tours and excursions
WeGoTrip is an online service for booking audio excursions and tours on 35+ countries on different languages (mostly english). Travelers can take audio excursions created by professional tour guides and local experts.
Tiqets' innovative technology ensures that travelers can book tickets on their phone at the last minute, receive their tickets directly in a digital form, and show their mobile phones in place of physical tickets to museums, places of interest, and attractions. Offers available passes in Europe and the US.
Car Rental
You can find the best car rental prices at QEEQ.COM.
QEEQ.COM serves road trip travellers from different countries by working with car rental companies all over the world. The company offers its customers the widest set of car rental options and always strives to offer the most competitive price.