Antalya is Turkey's fastest-growing city, and visitors from all over the world are flocking to see its fantastic blend of beautiful beaches and traditional Turkish culture.
The Beach Park, which includes Aqua Land (a waterslide fanatic's dream) and Dolphin Land, is a favorite with kids (home to dolphins, sea lions and white whales).

Make a point of seeing Hadrian's Gate and exploring the historic town center.

Güllük Mountain National Park, on the Antalya-Korkuteli route, Mount Olympus National Park in Kemer, and Düden and Kurşunlu Waterfalls are among the preserved natural regions. The Damlataş and Karain Caves, as well as the Guver Cliff, are other protected places.

It has picnic and recreation areas located across the city. In Manavgat's Köprülü Kanyon, there are picnic sites and rafting opportunities.
Forests comprise part of the Korkuteli-Antalya boundary in Antalya's western portion. Picnic spots, a playground, a restaurant, and other amenities are available in these regions.
The Feslikan Plateau, located west of the city center, has a promenade with lake and woodland views, as well as nature sports and nature walks.
In the summer, an oil wrestling competition is held, which is accompanied by concerts. The pond in Doyran town, which is located west of the city, is ideal for picnics and fishing.
Antalya's signature cuisine includes piyaz (made with tahini, garlic, walnuts, and boiled beans), şiş köfte (spicy meatball which is cooked around a stick) spicy hibeş with mixed cumin and tahini, tandır kebap, domates civesi, şakşuka, and various cold Mediterranean dishes with olive oil.
One local speciality is tirmis, boiled seeds of the lupin, eaten as a snack. "Grida" (also known as Lagos or Mediterranean white grouper) is a fish common in local dishes.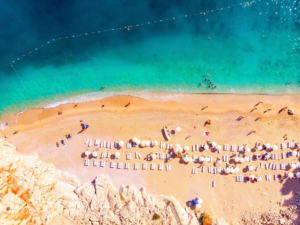 Holiday Deals
All Inclusive holiday Flights included from 240 Euro Book Here

Cheapest Best Hotels in Antalya Check Prices
Book a hotel with a discount and save up to 60% Check Prices
Jetradar searches travel and airline sites to help you find
cheap flights at best prices Check Here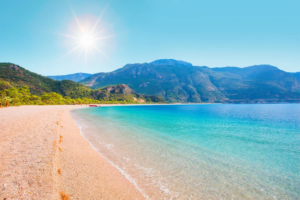 Antalya's Top 4 Things to Do
Mud Bath and Turkish Bath experience in Antalya Discount Ticket Here
Ormana village and Golden Cradle Cavern guided tour
Discount Ticket Here
Antalya Aquarium tickets Discount Ticket Here
Traditional Turkish bath experience in Antalya
Discount Ticket Here
QEEQ – $50 Off Car Rental Coupon Package for New Signups + FREE Offline Map & GPS Click here


OMIO – Train Tickets and Rail Passes in Europe Click here


Insurance for any traveler
International Travel Insurance
Europe Travel / Schengen Visa Insurance Check Prices

HostelWorld – Book cheap hostels across the world Check Prices

Rail Europe – Buy European train tickets, the safe and simple way Check Prices

loveholidays – All-inclusive Holiday Check Prices

BOOK TICKETS TO MUSEUMS, ATTRACTIONS AND FUN ACTIVITIES Click here

WeGoTrip – Self-guided tours with the mobile app Click here