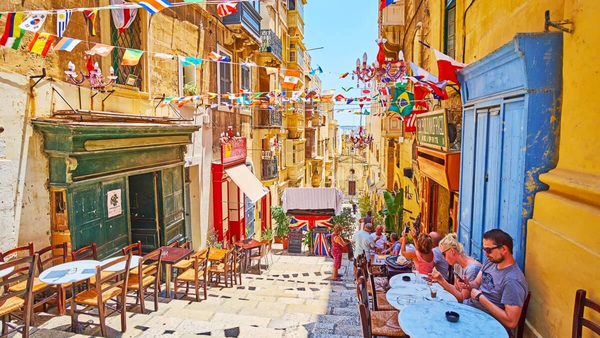 Malta is one of the most appealing and diverse destinations in the Mediterranean, with over 7,000 years of history, many megaliths, medieval dungeons, and thriving cities and villages.
Discover beaches with shifting colors and hidden coves. Visit historic monuments or the hottest nightclubs in town.
Valletta was named European Capital of Culture 2018 for its sunny avenues, rich heritage, and stunning architecture. Malta honors its history while keeping up with the times.
Malta has a Mediterranean climate with mild winters and hot summers, hotter in the inland areas. Rain occurs mainly in autumn and winter, with summer being generally dry.
The average annual temperature is roughly 23 °C (73 °F) during the day and 15.5 °C (59.9 °F) at night. In January, the coldest month, the average maximum temperature is 12 to 18 °C (54 to 64 °F) during the day and 6 to 12 °C (43 to 54 °F) at night. August is the hottest month, with maximum temperatures ranging from 28 to 34 °C (82 to 93 °F) during the day and minimum temperatures ranging from 20 to 24 °C (68 to 75 °F) at night.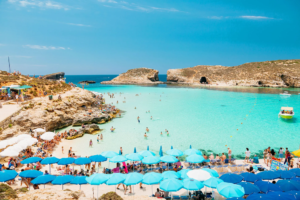 Valletta, the capital of Malta, has the warmest winters on the European continent, with average temperatures of 15 to 16 °C (59 to 61 °F) during the day and 9 to 10 °C (48 to 50 °F) at night in the months of January and February. The average temperature in March and December is around 17 °C (63 °F) during the day and 11 °C (52 °F) at night.
Maltese cuisine shows strong Sicilian and Italian influences as well as influences of English, Spanish, Maghrebin and Provençal cuisines. A number of regional variations, particularly with regards to Gozo, can be noted as well as seasonal variations associated with the seasonal availability of produce and Christian feasts (such as Lent, Easter and Christmas).
Food has been important historically in the development of a national identity in particular the traditional fenkata (i.e., the eating of stewed or fried rabbit). Potatoes are a staple of the Maltese diet as well.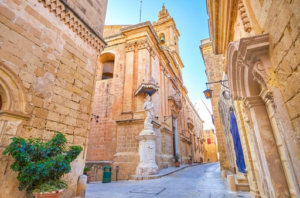 A number of grapes are endemic to Malta, including Girgentina and Ġellewża. There is a strong wine industry in Malta, with significant production of wines using these native grapes, as well as locally grown grapes of other more common varietals, such as Chardonnay and Syrah.
A number of wines have achieved Protected Designation of Origin, with wines produced from grapes cultivated in Malta and Gozo designated as "DOK" wines, that is Denominazzjoni ta' l-Oriġini Kontrollata.
Holiday Deals
All Inclusive holiday Flights included from 187 Euro Book Here

Cheapest Best Hotels in Malta Check Prices
Book a hotel with a discount and save up to 60% Check Prices
Jetradar searches travel and airline sites to help you find
cheap flights at best prices Check Here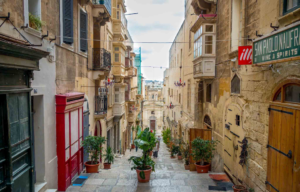 Malta's Top 3 Things to Do
Mdina and Rabat walking tour Discount Ticket Here
City Sightseeing hop-on hop-off bus tour of Gozo Discount Ticket Here
Valletta walking tour with St. John's Co-Cathedral
Discount Ticket Here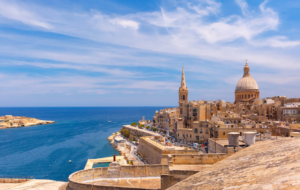 QEEQ – $50 Off Car Rental Coupon Package for New Signups + FREE Offline Map & GPS Click here


OMIO – Train Tickets and Rail Passes in Europe Click here


Insurance for any traveler
International Travel Insurance
Europe Travel / Schengen Visa Insurance Check Prices

HostelWorld – Book cheap hostels across the world Check Prices

Rail Europe – Buy European train tickets, the safe and simple way Check Prices

loveholidays – All-inclusive Holiday Check Prices

BOOK TICKETS TO MUSEUMS, ATTRACTIONS AND FUN ACTIVITIES Click here

WeGoTrip – Self-guided tours with the mobile app Click here